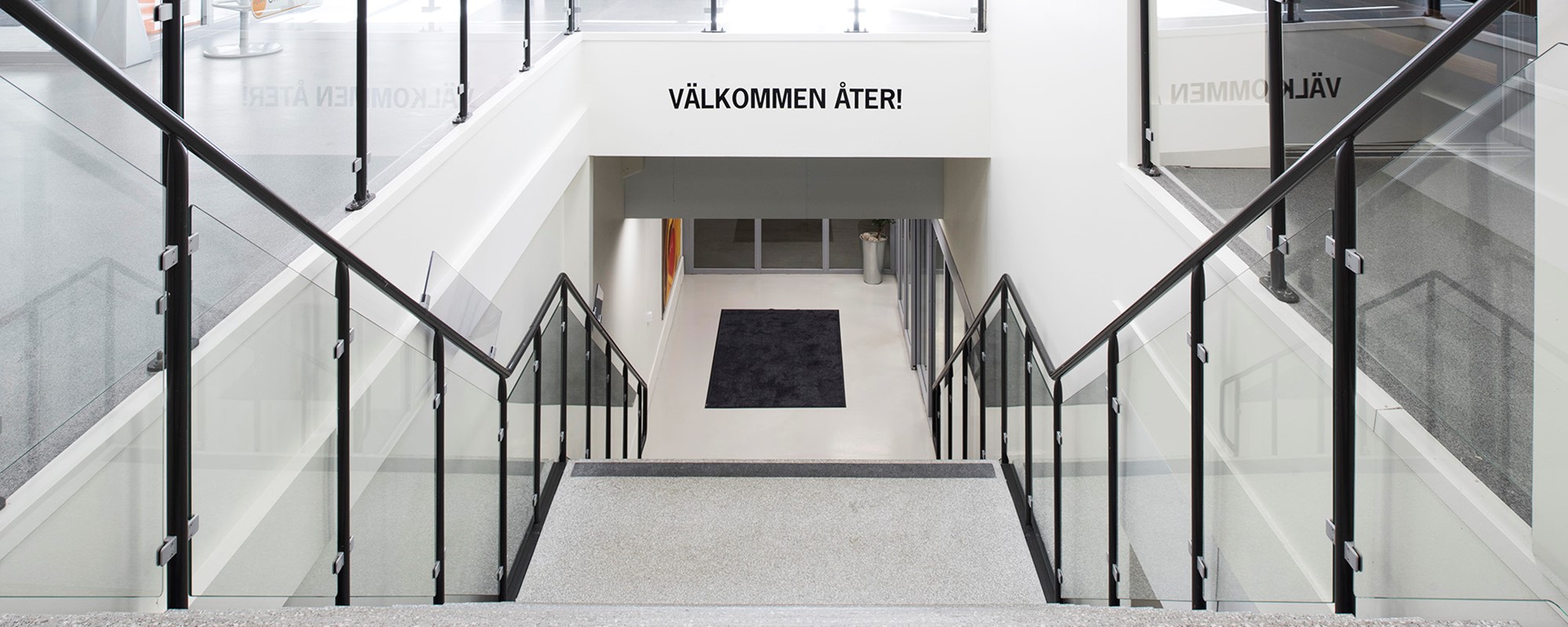 STRAIGHT FLIGHT STAIRCASES
We offer straight flight staircases for most environments.
Thanks to the many options, we tailor the staircase to meet your conditions and wishes.
STRAIGHT FLIGHT STAIRCASES
We offer straight flight staircases for most environments.
Thanks to the many options, we tailor the staircase to meet your conditions and wishes.
---
Weland straight flight staircases consist of only a few main components. With their simple design, the parts are easily screwed together during assembly.
Our efficient production line generates high quality and shorter delivery times. We manufacture our products in Sweden using our modern, environmentally friendly fleet of machinery and, together with our knowledgeable staff, we are developing and designing straight staircases to meet high requirements for quality.
Railings
Weland offers the railings for straight flight staircases in many different versions. The choice of railing depends primarily on where the staircase will be placed and whether children will be present in the area where the staircase is installed.

Railing, Intermediate Rail
Handrail and balusters in tube Ø 42 mm, an intermediate rail in tube ø 28 mm – standard on industrial staircases.

Railing, Round Bar
A railing focusing on form and design. Childproof with maximum opening 100 mm.

Railing, Sheet Metal
Railing in solid or perforated metal. Childproof with maximum opening 100 mm.

Railing, Woven wire mesh
Railing in woven wire mesh with standard mesh 40 x 40 mm. We also offer a mesh size of 30 x 30 mm as an alternative.

Railing, Glass
Railing filled with glass for an extra finish. Childproof with maximum opening 100 mm.

Flat Bar Railing
A childproof railing that feels like wrought iron. Intermediate rails made from flat bar and round bar railing infill. Square profile railing baluster.
---
Handrail
The handrails are usually integrated in the railing and are manufactured from hot dip galvanized steel as standard. The handrails can also be ordered in wood or painted versions. In hot-dip galvanized and painted versions, the handrail is 42 mm in diameter and 50 mm in wood.
We can also provide our straight flight staircases with an extra handrail and bannister.
Accessories
Weland straight staircases can be equipped with an extra handrail. The handrails can be extended by 300 mm at the start and finish of the staircase. The handrail is placed below the normal handrail. It helps to increase the safety of the staircase.
To increase the accessibility and safety of the staircase, it can be provided with extended banister. The banister is fitted on the wall.
Create a decorative environment and equip your straight staircase with lighting.
The lighting in the extra handrail also creates a safer environment and is a functional complement. The construction is design protected.
---
Stair treads & landings
Weland stair treads and landings are normally manufactured from grating in hot dip galvanized finish, but they can also be manufactured in many other versions. The choice is based on the staircase's placing as well as taste and personal preference. Please contact us for more information about different mesh widths and alternative versions.
Accessories
---
Contrast Marking
Contrast markings in black painted punched sheet metal are included as standard. The profile is easy to mount to our steel stairs and ramps. The contrast marking is also available in other colours upon request and can also be purchased separately. Note that the contrast markings shown in the slide show are for stair treads shown under the heading stair treads on this page.
---
Surface treatment
Our straight flight staircases for outdoor use are hot dip galvanized as standard. In our own plant, the staircases are surface treated to withstand great stress. The method provides a very robust protection against corrosion. We also have modern painting shops at our disposal and can deliver straight flight staircases for all environments in most colours. For more information, please visit our page for surface treatment.
---
Extra accessories
To increase the safety and accessibility in the staircase, we offer a number of extra accessories to simplify these aspects.
To prevent unauthorised persons from entering the straight flight staircase, it can be supplemented with a protective cage at the bottom. The protective cages are manufactured in grating, but they are also available with, for example, perforated sheet metal. The door is equipped with a ASSA 410/50 High security sashlock. Door push on both sides. The cage door is opened with a key from the outside and knob from the inside. The requisite bolts are included. We also manufacture customised protective cages.
Gallery