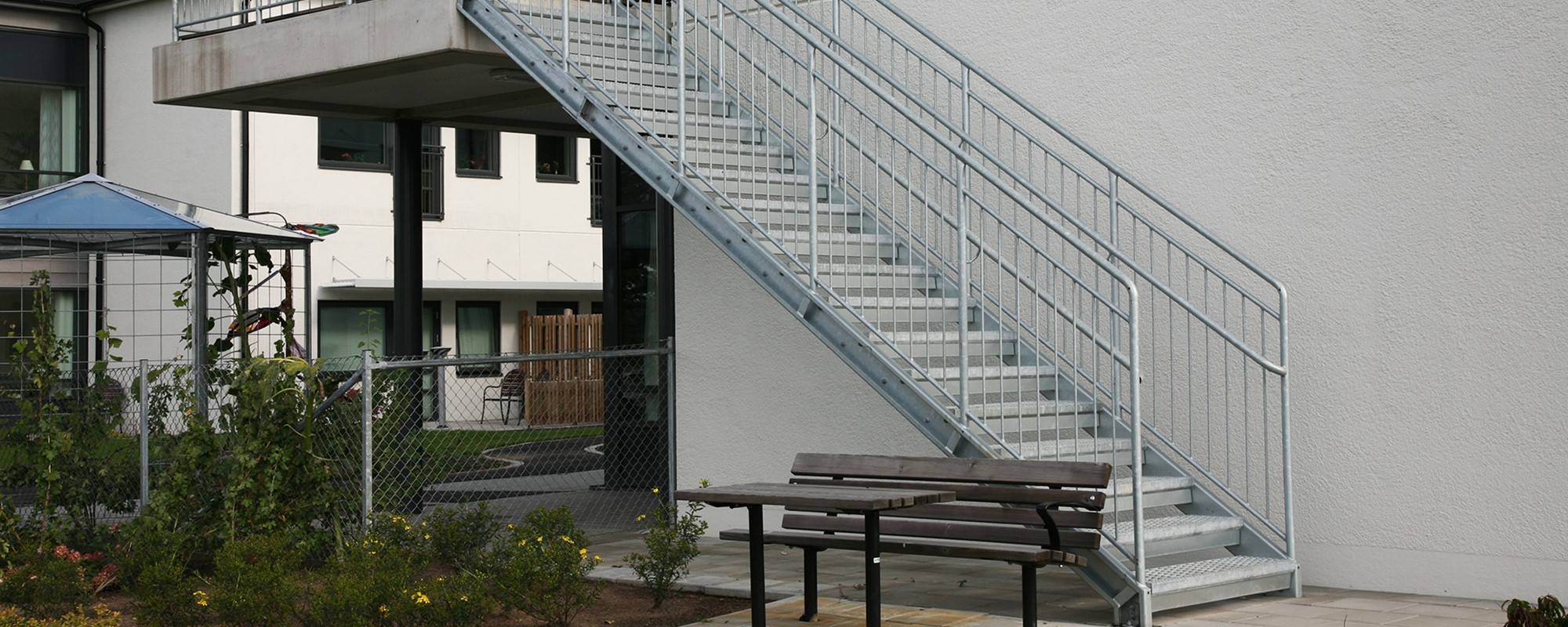 STAIR TREADS
We offer straight stair treads in grating, slit plank type flooring and plank type flooring. The majority of the stair treads are kept in stock for immediate delivery.
We manufacture stair treads in several different materials. Many of the stair treads are stocked for immediate delivery. Custom-made stair treads are manufactured according to measurements from the customer and are made to order.
Stair treads
We manufacture stair treads from grating in several different mesh width openings and materials. TH6-S with mesh opening c/c 34 x 75 mm is our most common stair tread. This stair tread is also on stock for quick deliveries. If you need a tighter mesh width opening our stair tread TN6-S with mesh width opening c/c 17 x 75 mm is usually used.
We also offer stair treads in plank type flooring and slit plank type flooring. Please contact us for more information about different mesh widths and alternative versions.
TH6-S, is manufactured from pressure welding grating with a mesh width opening c/c 34 x 75 mm. The stair tread is manufactured from the same type of grating but has a safety front edge that clearly marks the front edge and, in addition, provides increased anti-slip protection.
Finish: Hot dip galvanized
| Format L x D (mm) | Part no. | Stocked |
| --- | --- | --- |
| 400 x 130 | 143304131 | |
| 400 x 160 | 143304161 | |
| 500 x 130 | 143305131 | |
| 500 x 160 | 143305161 | |
| 500 x 200 | 143305201 | |
| 600 x 130 | 143306131 | |
| 600 x 160 | 143306161 | |
| 600 x 200 | 143306201 | |
| 600 x 230 | 143306231 | |
| 600 x 260 | 143306261 | |
| 700 x 130 | 143307131 | |
| 700 x 160 | 143307161 | |
| 700 x 200 | 143307201 | |
| 700 x 230 | 143307231 | |
| 700 x 260 | 143307261 | |
| 800 x 130 | 143308131 | |
| 800 x 160 | 143308161 | |
| 800 x 200 | 143308201 | |
| 800 x 230 | 143308231 | |
| 800 x 260 | 143308261 | |
| 800 x 300 | 143308301 | |
| 900 x 200 | 143309201 | |
| 900 x 230 | 143309231 | |
| 900 x 260 | 143309261 | |
| 900 x 300 | 143309301 | |
| 1000 x 200 | 143310201 | |
| 1000 x 230 | 143310231 | |
| 1000 x 260 | 143310261 | |
| 1000 x 300 | 143310301 | |
| 1100 x 230 | 143311231 | |
| 1100 x 260 | 143311261 | |
| 1100 x 300 | 143311301 | |
| 1200 x 230 | 143312231 | |
| 1200 x 260 | 143312261 | |
| 1200 x 300 | 143312301 | |
| 1300 x 260 | 143313261 | |
| 1300 x 300 | 143313301 | |
| 1400 x 260 | 143314261 | |
| 1400 x 300 | 143314301 | |
| 1500 x 260 | 143315261 | |
| 1500 x 300 | 143315301 | |
| 1600 x 300 | 143316301 | |
| 1800 x 300 | 143318301 | |
Stair tread TLDT is manufactured from solid plank type flooring. The top has an embossed pattern offering good anti-slip protection.
Finish: Hot dip galvanized
| Format L x D (mm) | Part no. | Stocked |
| --- | --- | --- |
| 500 x 200 | 2503000 | |
| 500 x 250 | 2503160 | |
| 500 x 300 | 2505450 | |
| 600 x 200 | 2503020 | |
| 600 x 250 | 2503180 | |
| 600 x 300 | 2505460 | |
| 700 x 200 | 2503040 | |
| 700 x 250 | 2503200 | |
| 700 x 300 | 2505480 | |
| 800 x 200 | 2503060 | |
| 800 x 250 | 2503220 | |
| 800 x 300 | 2505490 | |
| 900 x 200 | 2503080 | |
| 900 x 250 | 2503240 | |
| 900 x 300 | 2505500 | |
| 1000 x 200 | 2503100 | |
| 1000 x 250 | 2503260 | |
| 1000 x 300 | 2505510 | |
| 1100 x 200 | 2503120 | |
| 1100 x 250 | 2503280 | |
| 1100 x 300 | 2505520 | |
| 1200 x 200 | 2503140 | |
| 1200 x 250 | 2503300 | |
| 1200 x 300 | 2505530 | |
| 1300 x 200 | 2503145 | |
| 1300 x 250 | 2503320 | |
| 1300 x 300 | 2505540 | |
| 1400 x 200 | 2503150 | |
| 1400 x 250 | 2503340 | |
| 1400 x 300 | 2505550 | |
| 1500 x 200 | 2503155 | |
| 1500 x 250 | 2503360 | |
| 1500 x 300 | 2505560 | |
Stair tread TLDT is manufactured from holed plank type flooring. The top has an embossed pattern offering good anti-slip protection. In principle, the same as solid plank type flooring but supplemented with punched oval holes 15 x 69 mm.
Finish: Hot dip galvanized
| Format L x D (mm) | Part no. | Stocked |
| --- | --- | --- |
| 500 x 200 | 2503010 | |
| 500 x 250 | 2503170 | |
| 500 x 300 | 2505660 | |
| 600 x 200 | 2503030 | |
| 600 x 250 | 2503190 | |
| 700 x 200 | 2503050 | |
| 700 x 250 | 2503210 | |
| 700 x 300 | 2505680 | |
| 800 x 200 | 2503070 | |
| 800 x 250 | 2503230 | |
| 800 x 300 | 2505690 | |
| 900 x 200 | 2503090 | |
| 900 x 250 | 2503250 | |
| 900 x 300 | 2505700 | |
| 1000 x 200 | 2503110 | |
| 1000 x 250 | 2503270 | |
| 1000 x 300 | 2505710 | |
| 1100 x 200 | 2503130 | |
| 1100 x 250 | 2503290 | |
| 1100 x 300 | 2505720 | |
| 1200 x 200 | 2503142 | |
| 1200 x 250 | 2503310 | |
| 1200 x 300 | 2505730 | |
| 1300 x 200 | 2503147 | |
| 1300 x 250 | 2503330 | |
| 1300 x 300 | 2505740 | |
| 1400 x 200 | 2503152 | |
| 1400 x 250 | 2503350 | |
| 1400 x 300 | 2505750 | |
| 1500 x 200 | 2503157 | |
| 1500 x 250 | 2503370 | |
| 1500 x 300 | 2505760 | |
Stair tread TLDS is manufactured from slit plank type flooring. The serrated top provides extremely good anti-slip protection.
Finish: Hot dip galvanized
| Format L x D (mm) | Part no. | Stocked |
| --- | --- | --- |
| 500 x 200 | 2506000 | |
| 500 x 250 | 2506200 | |
| 500 x 300 | 2506310 | |
| 600 x 200 | 2506010 | |
| 600 x 250 | 2506210 | |
| 600 x 300 | 2506315 | |
| 700 x 200 | 2506020 | |
| 700 x 250 | 2506220 | |
| 700 x 300 | 2506320 | |
| 800 x 200 | 2506030 | |
| 800 x 250 | 2506230 | |
| 800 x 300 | 2506330 | |
| 900 x 200 | 2506040 | |
| 900 x 250 | 2506240 | |
| 900 x 300 | 2506340 | |
| 1000 x 200 | 2506050 | |
| 1000 x 250 | 2506250 | |
| 1000 x 300 | 2506350 | |
| 1100 x 200 | 2506060 | |
| 1100 x 250 | 2506260 | |
| 1100 x 300 | 2506360 | |
| 1200 x 200 | 2506070 | |
| 1200 x 250 | 2506270 | |
| 1200 x 300 | 2506370 | |
| 1300 x 200 | 2506080 | |
| 1300 x 250 | 2506280 | |
| 1300 x 300 | 2506380 | |
| 1400 x 200 | 2506090 | |
| 1400 x 250 | 2506290 | |
| 1400 x 300 | 2506390 | |
| 1500 x 200 | 2506100 | |
| 1500 x 250 | 2506300 | |
| 1500 x 300 | 2506395 | |
Stair tread TLDP is manufactured from perforated plank type flooring. The serrated top provides very good anti-slip protection. The planks have small openings (holes Ø 10 mm and 4 mm drainage holes). Provides greater protection against objects falling through the openings.
Finish: Hot dip galvanized
---
| Format L x D (mm) | Part no. | Stocked |
| --- | --- | --- |
| 500 x 200 | 2506400 | |
| 500 x 250 | 2506600 | |
| 500 x 300 | 2506750 | |
| 600 x 200 | 2506410 | |
| 600 x 250 | 2506610 | |
| 700 x 200 | 2506420 | |
| 700 x 250 | 2506620 | |
| 700 x 300 | 2506770 | |
| 800 x 200 | 2506430 | |
| 800 x 250 | 2506630 | |
| 800 x 300 | 2506790 | |
| 900 x 200 | 2506440 | |
| 900 x 250 | 2506640 | |
| 900 x 300 | 2506800 | |
| 1000 x 200 | 2506450 | |
| 1000 x 250 | 2506650 | |
| 1000 x 300 | 2506810 | |
| 1100 x 200 | 2506460 | |
| 1100 x 250 | 2506660 | |
| 1100 x 300 | 2506820 | |
| 1200 x 200 | 2506470 | |
| 1200 x 250 | 2506670 | |
| 1200 x 300 | 2506830 | |
| 1300 x 200 | 2506480 | |
| 1300 x 250 | 2506680 | |
| 1300 x 300 | 2506840 | |
| 1400 x 200 | 2506490 | |
| 1400 x 250 | 2506690 | |
| 1400 x 300 | 2506850 | |
| 1500 x 200 | 2506500 | |
| 1500 x 250 | 2506700 | |
| 1500 x 300 | 2506860 | |
The TSD stair tread is manufactured from slit plank type flooring. The serrated top provides extremely good anti-slip protection.
Finish: Hot dip galvanized
| Format L x D (mm) | Part no. | Stocked |
| --- | --- | --- |
| 501 x 130 | TSD05131 | |
| 606 x 200 | TSD06201 | |
| 696 x 200 | TSD07201 | |
| 696 x 260 | TSD07261 | |
| 801 x 200 | TSD08201 | |
| 801 x 260 | TSD08261 | |
| 906 x 260 | TSD09261 | |
| 906 x 300 | TSD09301 | |
| 996 x 260 | TSD10261 | |
| 996 x 300 | TSD10301 | |
| 1101 x 260 | TSD11261 | |
| 1101 x 300 | TSD11301 | |
| 1206 x 260 | TSD12261 | |
| 1206 x 300 | TSD12301 | |
| 1296 x 260 | TSD13261 | |
| 1401 x 260 | TSD14261 | |
---
Accessories
In order to create individual step heights without attaching stringers to the ground, we offer 3 different step bracket models. The various bracket pairs are adapted to the hole configuration of the staircase on gables and the depth of the steps. The step bracket pack includes a complete bracket pair and bolted joints for the step.
Finish: Hot dip galvanized
| Step depth (mm) | Part no. | Stocked |
| --- | --- | --- |
| 160 | 18001601 | |
| 230 | 18002301 | |
| 300 | 18003001 | |
Loose, stock riser bars for straight flight staircases. The riser bars are screwed to the tread to satisfy child safety requirements between the treads. The riser bars are available in the lengths as shown in the table.
Finish: Hot dip galvanized
---
| Längd (mm) | Höjd (mm) | Artikelnummer | Lagerförd |
| --- | --- | --- | --- |
| 700 | 92 | 14607001 | |
| 800 | 92 | 14608001 | |
| 900 | 92 | 14609001 | |
| 1000 | 92 | 14610001 | |
| 1100 | 92 | 14611001 | |
| 1200 | 92 | 14612001 | |
| 1300 | 92 | 14613001 | |
| 1400 | 92 | 14614001 | |
| 1500 | 92 | 14615001 | |
---
Gallery