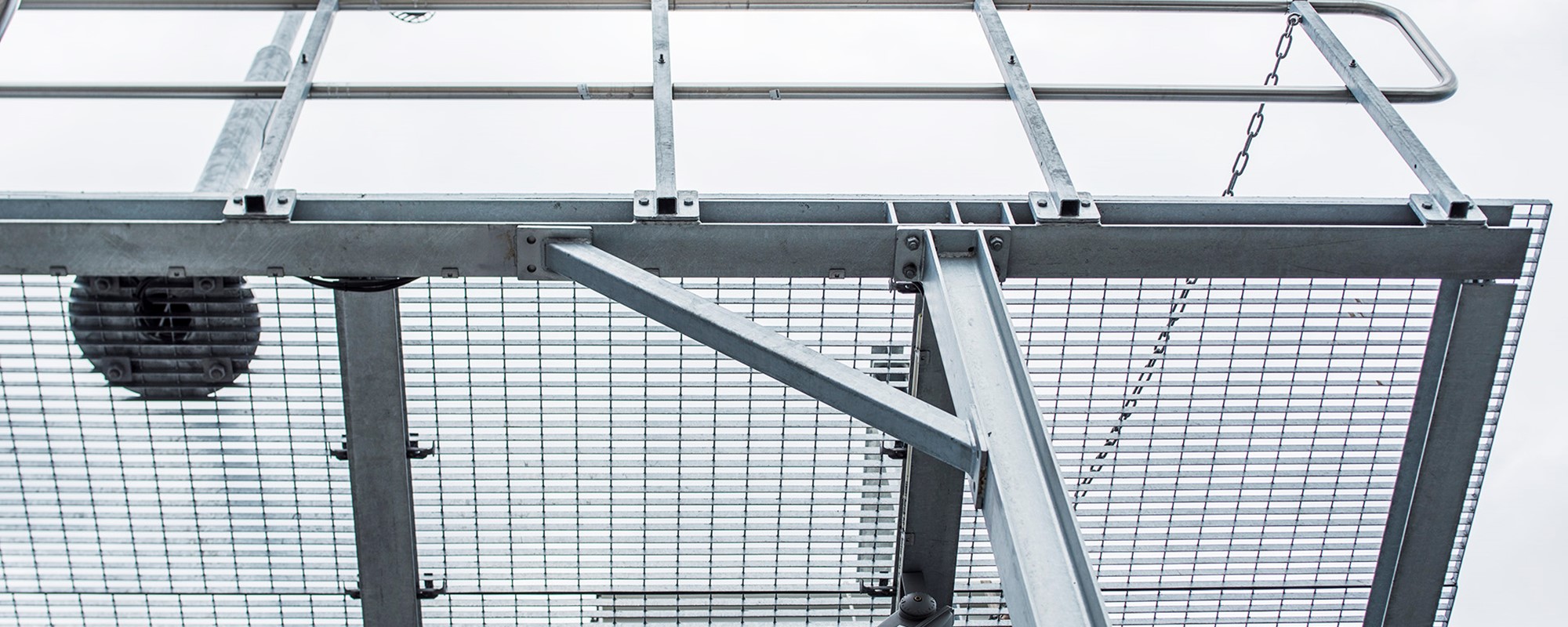 LANDINGS
We offer landings made in grating and slit plank type flooring. The majority of our landings are kept in stock for immediate delivery.
Weland manufactures landings in several different materials. Many of the landings are stocked for immediate delivery. Custom-made landings are manufactured according to measurements from the customer and are made to order.
Landings
Weland manufactures landings from grating in several different mesh width openings and materials. We also offer landings made of slit plank type flooring. Please contact us for more information about different mesh widths and alternative versions.
TH6 is manufactured from grating with a mesh width opening c/c 34 x 75 mm.
Finish: Hot dip galvanized
---
| Format L x D (mm) | Part no. | Stocked |
| --- | --- | --- |
| 500 x 500 | 148805051 | |
| 500 x 700 | 148805071 | |
| 500 x 1000 | 148805101 | |
| 600 x 500 | 148806051 | |
| 600 x 700 | 148806071 | |
| 600 x 1000 | 148806101 | |
| 700 x 500 | 148807051 | |
| 700 x 700 | 148807071 | |
| 700 x 1000 | 148807101 | |
| 800 x 500 | 148808051 | |
| 800 x 700 | 148808071 | |
| 800 x 1000 | 148808101 | |
| 900 x 500 | 148809051 | |
| 900 x 700 | 148809071 | |
| 900 x 1000 | 148809101 | |
| 1000 x 500 | 148810051 | |
| 1000 x 700 | 148810071 | |
| 1000 x 1000 | 148810101 | |
| 1100 x 500 | 148811051 | |
| 1100 x 700 | 148811071 | |
| 1100 x 1000 | 148811101 | |
| 1200 x 500 | 148812051 | |
| 1200 x 700 | 148812071 | |
| 1200 x 1000 | 148812101 | |
| 1300 x 500 | 148813051 | |
| 1300 x 700 | 148813071 | |
| 1300 x 1000 | 148813101 | |
| 1400 x 500 | 148814051 | |
| 1400 x 700 | 148814071 | |
| 1400 x 1000 | 148814101 | |
| 1500 x 500 | 148815051 | |
| 1500 x 700 | 148815071 | |
| 1500 x 1000 | 148815101 | |
| 1600 x 500 | 148816051 | |
| 1600 x 700 | 148816071 | |
| 1600 x 1000 | 148816101 | |
| 1800 x 1000 | 148818101 | |
TSD is manufactured from slit plank type flooring. The serrated top provides very good anti-slip protection and lets through dirt, oil and other spillages.
Finish: Hot dip galvanized
---
| Format L x D (mm) | Part no. | Stocked |
| --- | --- | --- |
| 501 x 500 | TSD05051 | |
| 501 x 700 | TSD05071 | |
| 501 x 1000 | TSD05101 | |
| 606 x 500 | TSD06051 | |
| 606 x 700 | TSD06071 | |
| 606 x 1000 | TSD06101 | |
| 696 x 500 | TSD07051 | |
| 696 x 700 | TSD07071 | |
| 696 x 1000 | TSD07101 | |
| 801 x 500 | TSD08051 | |
| 801 x 700 | TSD08071 | |
| 801 x 1000 | TSD08101 | |
| 906 x 500 | TSD09051 | |
| 906 x 700 | TSD09071 | |
| 906 x 1000 | TSD09101 | |
| 996 x 500 | TSD10051 | |
| 996 x 700 | TSD10071 | |
| 996 x 1000 | TSD10101 | |
| 1101 x 500 | TSD11051 | |
| 1101 x 700 | TSD11071 | |
| 1101 x 1000 | TSD11101 | |
| 1206 x 500 | TSD12051 | |
| 1206 x 700 | TSD12071 | |
| 1206 x 1000 | TSD12101 | |
| 1296 x 500 | TSD13051 | |
| 1296 x 700 | TSD13071 | |
| 1296 x 1000 | TSD13101 | |
| 1401 x 500 | TSD14051 | |
| 1401 x 700 | TSD14071 | |
| 1401 x 1000 | TSD14101 | |
---
Accessories
---
Gallery