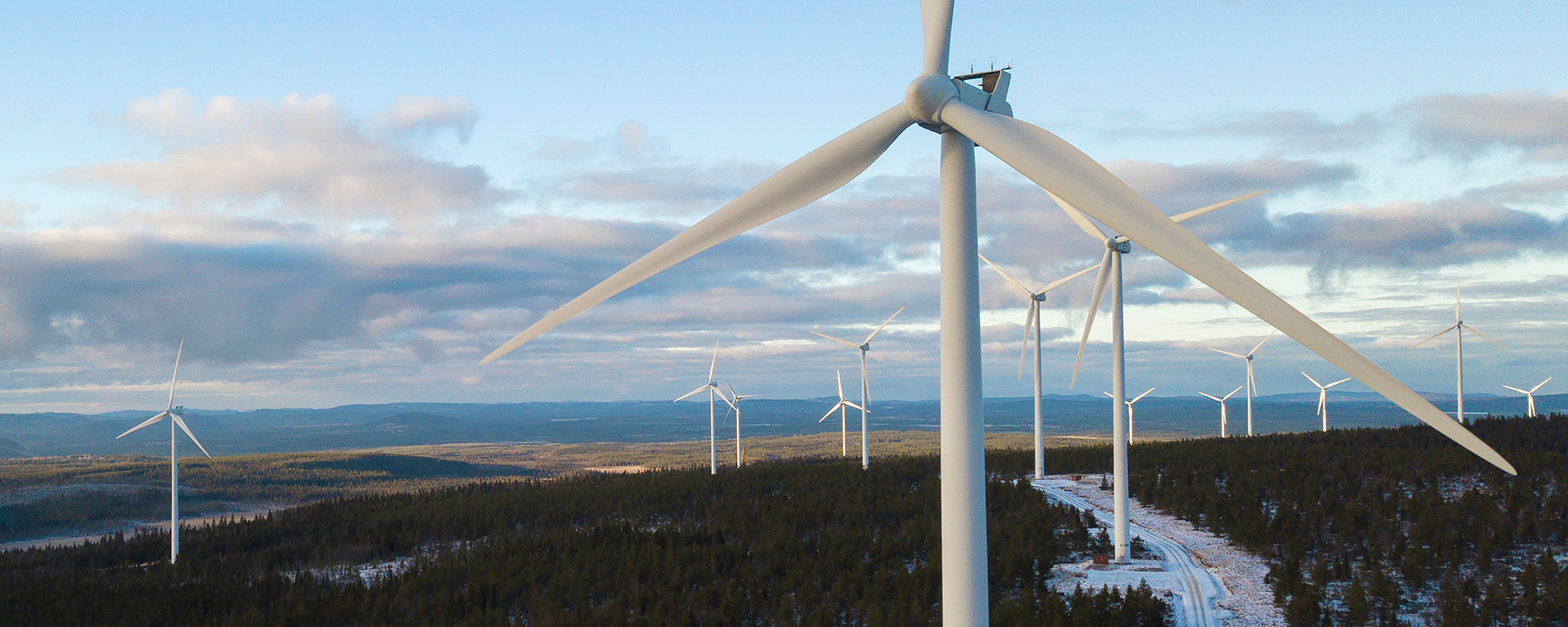 Plank type flooring creates a safe working environment in wind farm
When AMV Production began designing Vattenfall's large wind farm located between Östersund and Umeå, high efficiency, reliable operation, and safety were the watchwords. Creating a safe working environment for service staff was something that was highlighted early on in the project. The solution was a protective roof made from plank type flooring supplied by Weland AB.
Construction work on the wind farm took five years, and by 2022 the 84 wind turbines were in full operation.
According to Robert Ohlsson, CEO of AMV Production, when the project was conceived it represented the single largest investment in energy production in Sweden since the country's decision to invest in nuclear power.
Siting wind turbines correctly in relation to each other and site wind conditions, formed the basis for efficient production. At the same time, it was essential that a forward thinking approach was adopted and steps taken to ensure a safe working environment so that regular servicing to ensure long and problem-free operation could be carried out safely. Therefore, the issue of having a safe workplace was high on the agenda from the outset.
Risk of falling from 100 metres
As snow and cold are intrinsic features of a Västerbotten winter, it is quite normal for ice and snow to collect on turbine blades and towers. Such conditions create risks for the service engineers whilst they work in the shadow of the towers.
"When a block of ice falls from a height of 100 metres, it generates a great deal of force and a helmet provides very little personal protection. Therefore, it's vital that a secondary protection is installed, such as a solid roof made from plank type flooring fitted above the entrance to the tower," says Ohlsson.
Ice fall protection as a requirement
The idea of a roof made from plank type flooring to protect against falling ice was originally put forward by Vattenfall, the principal owner of the wind farm. They also demanded that ice fall protection be installed on every turbine.
"Visitors to the farm can see such protection is actually necessary. The stairways leading into the towers often show signs of significant damage as the result of ice falls from above. The towers are really tall, so even a small piece of ice can cause a lot of damage," says Ohlsson.
The plank type flooring ice fall protection canopy measures anywhere between 6 to 8 metres long and 3 metres wide. Service personnel can drive their vehicles under the canopy and then safely gain access to the tower.
"We try to join wind power projects at as early a stage as possible, and it's my fervent hope that there will be an even greater focus on these types of solutions in the future. All in the name of increasing safety. That's what we're working on," says Ohlsson.
Publicerad: 2023-06-05